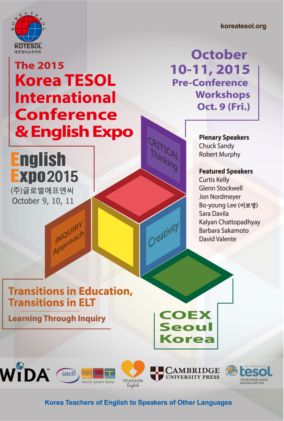 Teaching MORE - Mobile Online Realtime English

a workshop at Korea Tesol International Conference 2015
October 9, 2015
Using mobile, online, and/or live, interactive technology has the potential to engage students, improve learning outcomes, and make an educator's job more interesting. It also has the potential to frustrate learners, distract from course objectives, and make educators long for the days of chalk and erasers. This workshop will focus on strategies and tools that can help us successfully integrate 'MORE' technology into our teaching.
In the spirit of embracing these tools and confronting challenges they sometimes create, this will be a mobile-friendly, openly shared, live streamed, backchannel-supported workshop. Participants are encouraged to have their mobile devices charged and check out the resources and interacton spaces below.

This workshop will build on several recent presentations, webcasts, and most importantly in-class teaching experiences. Feel free to check out the links below and share any thoughts or quesitons in the workshop Band or chat room. Google+ Event Page
A follow-up Hangout will be streamed on Oct. 18 1200UTC (9pmKST)
All are welcome to tune in and join in at ELTLive.com/live and the Google+ Event page.
---
INTERACTION SPACES
(all are welcome to join)
Audio Recording Download mp3

---
Related Links
Links Mentioned
Course/Student Websites:
Group Chat Tools
Feed Readers
Social Media PD & Communities of Practice

Others
Related Webcasts
Jeff's Course Websites
presentation
kotesol
presentations